Hva er Lumenis Smart Selecta?
Smart Selecta® Duet™ represents Lumenis' most advanced anterior segment laser platform, combining the advantages of YAG photodisruption capabilities along with the innovative Selective Laser Trabeculoplasty (SLT) technology, both developed and brought to market by Lumenis. Now, it's also available with SmartV, allowing on-axis and off-axis illumination of vitreous opacities.
The system's fully integrated design, enhanced optics and advanced laser cavity make the Duet one of the best performing laser products in its segment. The Duet is also upgradeable – allowing further extension of the system's capabilities by adding photocoagulation technology at any point in time.

Hva kan Smart Select brukes til?
Her kan du se en animasjonsvideo om Smart Selecta Duet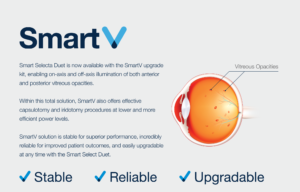 Hva er SmartV?
Smart Selecta Duet is now available with the Smart-V upgrade:
Titratable illumination of both anterior and posterior Vitreous Opacities
SLT can be treated with on-axis illumination, as well as off-axis if needed
Less red reflex: two converging light beams that allow superior visibility of the vitreous
Effective Capsulotomy and Iridotomy at lower and more efficient power levels
Stable solution that enables the visualization of the treatment area at all times (no flickering)
Easily upgradable at any time with the Smart Selecta Duet
Instrumentpartner er et medisin teknisk selskap som har et mål om å tilby innovative løsninger innenfor kirurgi.
Vi er representert i Norden.